over 1 year ago
As you know, your main project for the hackathon should be built using the public (non-beta) features. However, the beta features that are available in the Digital HQ Slackathon workspace are for you to try out. You can also provide valuable feedback about beta features to be eligible for extra cash prizes.


SUBMIT FEEDBACK FOR A SHOT AT $1000 CASH PRIZES.
1 - 2 business days after you registered for Slackathon on Devpost, you should have been invited to the Digital HQ Slackathon workspace. Please check the email you use for Devpost.
As long as you're signed into that workspace, you'll be able to view all API documentation for the new Slack Platform on api.slack.com/future. 
After you've explored the new Slack Platform features, navigate within the Digital HQ Slackathon workspace to the #feedback-new-platform channel and into the shortcuts menu. It's the lightning bolt icon next to the message composer. There you'll find a Submit feedback menu item. Simply select, fill out the form, and follow other prompts until you've completed the feedback submission.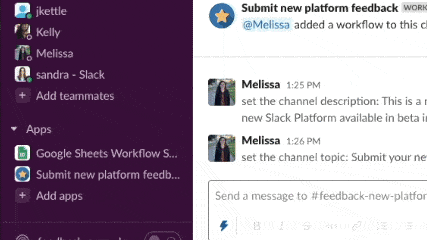 Happy Building!